December 2013
November 2013
Check out the season trailer for this year's Opening Shot!
BRUCE LEE PLAYED BADMINTON TOO travels all around Australia with Access All Areas Film Festival.
Missed HAPPY COUNTRY? It's having a special screening at the Enfield Aquatic Centre with MADAGASCAR 3: Europe's Most Wanted.
Corrie has been selected to direct a live read of the screenplay 'Out of Nowhere' by Matthew Barker as part of the AWG/ADG ScreenPlay initiative. It was the inaugural winner of the Australian Writers' Guild, 'What's Love Got To Do With It?' Screenwriting Competition. Come along!
October 2013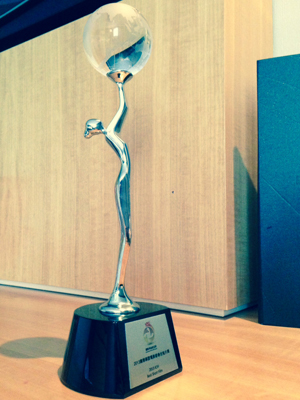 Winner! WONDER BOY was awarded 'Best Short Film' by the International Chinese Film Festival. Look at that beautiful trophy!
BRUCE LEE PLAYED BADMINTON TOO is making its Australian broadcast TV debut! Screening on SBS2 on October 12th at 11.30pm, and SBS ONE on October 14th. Check your guide for details. Missed it? It's available for free for a limited time on SBS catch up.
HAPPY COUNTRY and WONDER BOY are making a return to cinemas! Both shorts are screening at the Event Cinemas, George st Sydney on 13th October 6.30pm, and 15ht October 6.30pm respectively. Many thanks to the International Chinese Film Festival.
KEEP ME SAFE TONIGHT is completely finished! Australian broadcast date is officially 9.30pm, Wednesday 4th December on ABC2. Keep an eye out for it.
September 2013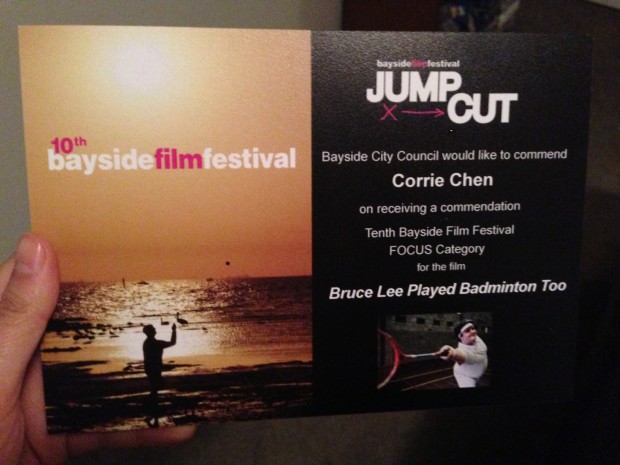 BRUCE LEE PLAYED BADMINTON TOO has been awarded a special commendation by the Bayside Film Festival! It is also screening this month at Canberra Short Film Festival! First time in the nation's capital.
KEEP ME SAFE TONIGHT has picture locked! Just a couple more weeks til full completion, and it is slated to be screened on ABC2 sometime in November. Stay tuned for exact screening time.
August 2013
Corrie is speaking on a public panel titled "FRESH MEAT: WELL DONE" with Richard Lowenstein and Rhys Graham for RMIT University's Media degree, on the art and realities of filmmaking. It's free!
BRUCE LEE PLAYED BADMINTON TOO is screening this month at the Sydney Opera House for Little Big Shots Film Festival, as well as Bayside Film Festival. Check out the links for details.
BLOOMERS  is completed. HOORAY! We'll be having cast/crew/supporters screenings in Melbourne and Sydney soon.
July 2013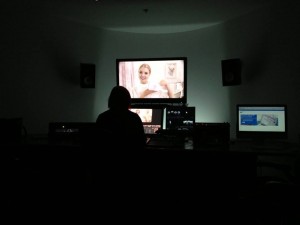 BLOOMERS is picture locked and the finish line is in sight! We are heading into an intensive sound design period and the film will be completed start of August.
BRUCE LEE PLAYED BADMINTON TOO is screening at the Heart of Gold International Film Festival this month! Make sure you book your tickets.
Corrie is embarking on a short film project ZERO TO HERO with Lawrence Leung to try and raise awareness for the Emily Needs Stem Cells campaign. It will be a 2 minute kung fu comedy to be shot in September!
June 2013
Extremely proud and excited to announce that BLOOMERS is the latest recipient of Screen Australia's $40,000 Short Film Completion Fund! This will allow the team to complete the film at the highest post-production standard. Read more about it here.
BRUCE LEE PLAYED BADMINTON TOO will be screening this month as part of Little Big Shots Film Festival in Melbourne, ACMI, as well as Moviemiento Film Festival in Berlin. Check out the link for details!
Corrie has been invited by Pozible to be a guest speaker at their upcoming Pozible Melbourne Workshop on June 27th. It's free, but book your tickets!
May 2013
WONDER BOY is screening as part of the Los Angeles Asian Pacific Film Festival this month at the wonderful DGA theatre. Check out the link for details.
A big congrats to good friend and frequent DOP collaborator Michael Latham on the short film he shot TAU SERU being accepted to Cannes Film Festival Critic's week. Michael shot WONDER BOY, and also a fun video for BLOOMERS.
Principal photography wraps on KEEP ME SAFE TONIGHT, with a few extra shot days scattered over the next month still to come.
Interfilm Berlin named BRUCE LEE PLAYED BADMINTON TOO as their short of the week! Check out their wonderfully written synopsis.
BLOOMERS is well into the rough cut, with a couple of public rough cut screenings scheduled over May in both Melbourne and Sydney. They will be announced here as they are scheduled.
April 2013
Starting April off with the great news that HAPPY COUNTRY, a massive 5 years after completion, was awarded the Panel's Choice Award at the Greater Dandenong Film Festival!
Production kicks off on KEEP ME SAFE TONIGHT. Over the next month they'll be shooting around Sydney, Noosa, and Hervey Bay.
March 2013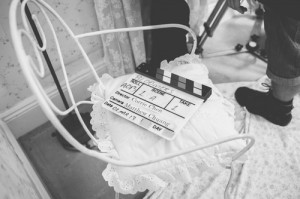 Photo by Kate Disher-Quill
BLOOMERS is wrapped! It was a gloriously fun shoot – here are some fabulous sneak peeks from on set photographer Kate Disher-Quill. And now, straight into the dark dungeons of the edit suite!
Pre-production started on KEEP ME SAFE TONIGHT, and a big thank you to those who helped spread the word of this documentary, as well as those who pledged to the pozible campaign.
BRUCE LEE PLAYED BADMINTON TOO was awarded a 'Highly Commended' Best Australian Short (comedy) at the World of Women Film Festival!
The Inner West Courier interviewed Corrie about the longevity of HAPPY COUNTRY and growing up Asian in Australia.
February 2013
Production started on Bloomers! Check out the video above for a behind the scenes peek.
Corrie was featured in a Q & A  about KEEP ME SAFE TONIGHT with Seen and Heard – a blog celebrating exciting female filmmakers.
Lip Magazine interviewed Corrie (and producer Jiao Chen) about their involvement in KEEP ME SAFE TONIGHT.
BRUCE LEE PLAYED BADMINTON TOO is opening for Bernardo Bertolucci's new film at the BUFF Film Festival, Sweden in March!
BRUCE LEE PLAYED BADMINTON TOO has been selected to play Opening Night at the World of Women Film Festival in Sydney.
January 2013